During this lockdown, while working from home and working at home, don't struggle with your pain.
We provide online and tele consultation. 
Feel free to contact us and get proffessional advice regarding your posture, joint stiffness and muscle pain.
Because we Care. 😊😊.
STAY HOME. STAY SAFE
Dr. Richa Purohit.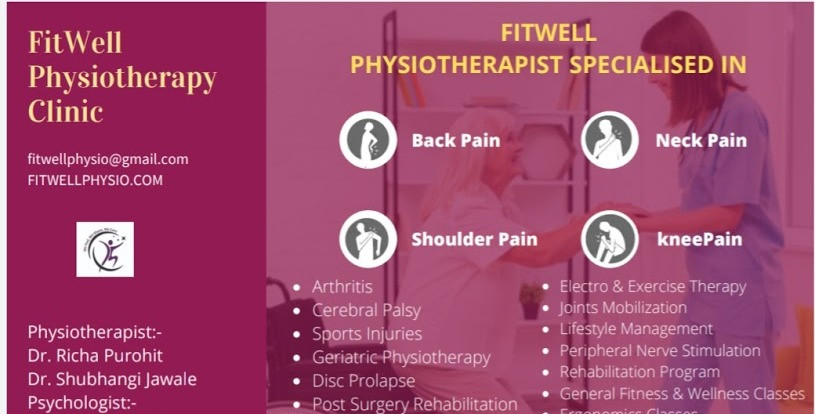 We Feel, We Heal, We Care because everyone deserves to be pain-free...

Geared towards quality and clinical excellence, FitWell is the Best Physical Therapy Clinic in Kharadi, Pune. FitWell  Health Clinic provides effective, evidence-based treatments along with the most advanced therapies and techniques.
FitWell Physiotherapist helps you with all kinds of injuries including back pain, neck pain, muscle strains, ligament sprains and tendon pains and we're great with post-op rehabilitation, Neuro-Rehabilitation, pediatric and geriatric Rehab and Women's Health. Through our holistic approach, we will tailor our treatments to your individual goals and specific requirements, working with you to optimize your recovery and prevent a recurrence.
FitWell also provides psychological counseling as and when needed as a part of our treatment plan.
Our Team is specialized in prevention, treatment and rehabilitation of Physical and Mental Health of all age groups. We work in coordination at our Physiotherapy Clinics in two locations Keshav Nagar, Pune and Kharadi, Pune.
We also provide Home Care Services to our clients who can't reach our center.
I invite everyone to discuss about their health issues and #PhysicalTherapy needs freely or in my personal messenger. I have helped many clients from the remote areas through video calls, who were unable to reach me physically, and they are highly satisfied with the advice given. 
So be open and free with your Therapist because your Health matters a lot :)
Dr. Richa Purohit 
(Physical Therapist)
      INDIA