India represents "Unity in Diversity". The country is a mixture of cultures, regions, traditions, diversity in food, languages, etc.
India is the seventh-largest country by its geographical area and is located in South Asia. It is a democratic country. The beauty surrounds our country from each and every aspect. India is also known by two other names Bharat and Hindustan and the people of India are known as Indians. The national anthem of the country is "Jan Gan Man" and the national song of my country is "Sare Jahan Se Achcha".
The country is also incredible because of its beautiful mountains, lakes, forests, seas, oceans, historical temples, its heritage, etc.
North Region
North Region consists of the most incredible thing in the world that is The Himalayas which is the highest mountain in the world. This region also consists of the beautiful Kashmir covered with mountains. It consists of Uttar Pradesh which is mainly known as the land of Krishna, land of Rama, etc. This region also consists of one of the wonders of the world i.e. "Taj Mahal" which people come to visit across the world.
Southern Region
This is the "Land of Nawabs". It is famous for its festivals, food, and languages. The place is famous for its rice dishes. This region consists of cities like Kerala, Tamil Nadu, and Karnataka, etc.
East Region
East part of  India consists of West Bengal, Jharkhand, Bihar, Odisha,  etc. The capital of West Bengal, Kolkata is the largest city of this section and is the metropolitan city and is the third's largest city in the country. Kolkata is known for its sweetness and festival.
West Region
The West part of the country is really incredible as it is covered with sands and deserts. Rajasthan, Gujarat, and Maharashtra are the three most amazing places in this region. The culture, the language, the traditions and the clothes of this region are incredible and you will love to visit this region
Indian Culture and Religion
India's culture is among the world's oldest; Civilization in India began about 4,500 years ago. India has 29 states with different culture and civilizations and one of the most populated countries in the world. The Indian culture, often labeled as a mixture of several various cultures.
India gave birth to Hinduism, Buddhism, Jainism, Sikhism, and other religions. They are now collectively known as Indian religions. Today, Hinduism and Buddhism are the third and fourth-largest religions respectively of the world. Although India is a secular Hindu-majority country, it has a large Muslim population.
Festivals
India, being a multi-cultural, multi-ethnic and multi-religious society, celebrates holidays and festivals of various religions. Major festivals include Diwali, Durga puja, Holi, Raksha Bandhan, Ganesh puja, Navratri, Rath yatra, etc are there round the year.
Food
Indian food is a cosmopolitan cuisine that has so many ingredients. It is as diverse as India. Indian recipes use numerous ingredients, deploy a wide range of food preparation styles, cooking techniques, and culinary presentation. Thus the tastes of same food like salads, sauces, vegetables, meat, desserts vary from region to region.
I am proud to be the inhabitant of India. I will share the details of famous places to visit in India (Tourism) in details in my future posts. Feel free to ask any queries related to India, I will be happy to provide the correct information :)
Sharing few pics representing the tricolor flag and main festivals of India.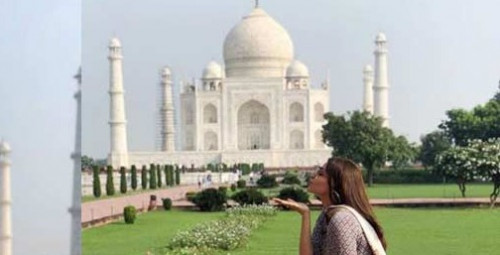 Hello Keenston.
My name is Richa. I am a Physical Therapist by profession and a free bird by nature :)
My hometown is a small city named Jhansi, UP in #India . It is a historic city, situated between the rivers Pahunj and Betwa and is a symbol of bravery, courage and self respect. We are proud of the best-known inhabitant Rani Lakshmi Bai, sometimes described as "India's Joan of Arc", who ruled it in the mid-19th century. Lakshmi Bai, led forces against British in 1857 and sacrificed her life to the cause of Indian Independence in 1858.
I am now settled in Maharashra state in India and have travelled across my country and abroad.I am always keen to learn about different cultures and backgrounds. I strongly beleive that "Humanity" is the best religion one can follow and helping people is the best practice to serve God.
I have served many renowned hospitals and Rehabilitation centers in India and am always ready to increase my knowledge with experience. I have always enjoyed working with challenged kids and bring out the best in them. They have inspired me a lot throughout my proffessional life. If in future, I get enough resources and funds, I would love to start my own Rehab center for these beautiful children where they can learn and live independently.
I currently reside in Pune, a sprawling city in the western Indian state of Maharashtra. It was once the base of the Peshwas (prime ministers) of the Maratha Empire, which lasted from 1674 to 1818. It's known for the grand Aga Khan Palace, built in 1892 and now a memorial to Mahatma Gandhi, whose ashes are preserved in the garden. The 8th-century Pataleshwar Cave Temple is dedicated to the Hindu god Shiva.
The city is considered to be the cultural capital of Maharashtra. It is also known as the "Oxford of the East" due to the presence of several well-known educational institutions. The city has emerged as a major educational hub in recent decades, with nearly half of the total international students in the country studying in Pune. Research institutes of Information technology, education, management and training attract students and professionals from India and overseas
I like to spend my free time with my family. I also like to persue my hobbies which are #music, #art&craft and adventure sports. 
I am happy to be a part of Keenston and looking forward to make many new connections from diverse background all around the World.  :)
I will be sharing some amazing facts and places to visit in India with their historical backgrounds. I hope everyone finds it informative and useful. Feel free to ask questions. I will try to answer them as clearly as possible :) 
GOD BLESS ALL